Is Lion finally on the upswing?
Find out with these shiny new Clan Wars spoilers
2 years ago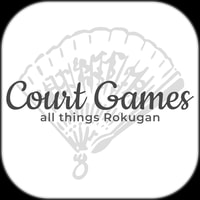 Thank you for Listening!
Chille GC Results, Clan War Box set, 2020 Winter Court in Madrid, Alex Watkins AMA
Mentioned ● Fort Worth, TX - Feb 6-9 - Side events, Draft, 2v2 pods. ○ Clan War is rumored to be released 2/7 ● Adepticon, Schaumburg, IL - March 25 - 30
Timestamps 13:30 Lion on the upswing? 20:20 Clan War Box Set Discussion 52:20 AMA with Alex Watkins
---
CourtGames is a fan project and is not an official affiliate of Fantasy Flight Games. Legend of the Five Rings is the property of Fantasy Flight Games. All opinions expressed on this podcast belong solely to the hosts of this show.
The music used in this episode is titled "Aiko", created by Carlos Estella
Any feedback is a gift, find us online: @CourtGamesPod on Twitter Join the L5R discord server Listen to the CourtGames RPG Cast